Q&A: How Arkansas Blue Cross created a value-based payment model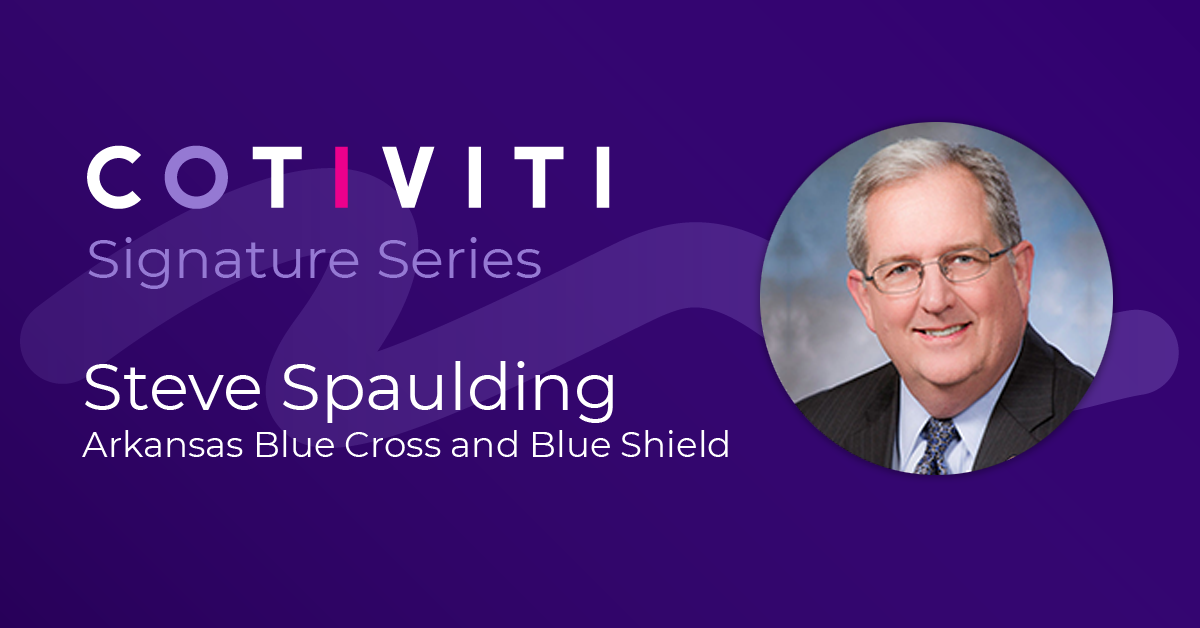 Cotiviti's Signature Series features interviews with senior health plan leaders on how to improve clinical and financial outcomes in healthcare.
To address rising healthcare costs and nurture care that drives positive patient outcomes, healthcare stakeholders are looking for ways to reward providers for value, not volume of services. But getting to this point is not a straightforward path as Arkansas Blue Cross and Blue Shield, the largest payer in its state, found out firsthand.
In a recent webinar, Arkansas Blue Cross executive vice president and chief health management officer Steve Spaulding explained how his organization approaches value-based payment, leveraging Cotiviti's Network Intelligence solution to define and compare high-value care through standardized provider benchmarks.
What approach did you take with your plan's model?
We wanted to keep the dollars in the system. But we needed to find a way to redirect those dollars that would offer a higher benefit to providers that had proven to be higher in efficiency, quality, and value than other providers. We built on our previous value-based initiatives and success, this time with a broader approach, with the intention of rewarding value, not volume of services. We included a reporting period so providers could understand what we expected and how we were going to rate them. We first wanted to get cash flow to the point where it covered the cost of services, and then provide the margins for those services in a different way based on their value to the patient.
How did you define low- vs. high-value care?
Before we partnered with Cotiviti, we were exploring generally accepted practices in the market because we were hesitant to introduce new concepts that providers were unfamiliar with. We agree with providers, however, that the largely process-driven measures available in the market don't accurately capture the value of care they provide. The measurement methodology from Cotiviti got us as close as we could find to achieving objective measurable comparisons of providers that would allow us to defend our position of redirecting compensation.
One of the things that I like about Cotiviti's solution is that it links virtually every decision point with a consequence. In addition to being responsible for their own quality of care, providers are also accountable for their downstream referral decisions. For example, if a primary care physician refers a patient to a low-value specialist, that primary care physician's scores are impacted accordingly.
How did your plan's value-based reimbursement model expand into specialties?
One way to create success for primary care practices is to help them manage the total cost of care for their population at risk. By providing primary care practices with meaningful information on the options they have for down-stream referral care, we can help them achieve a higher level of incentive in their own compensation model. Referral patterns in the past have been largely based on relationships, but providers are beginning to understand that there are significant variations in the cost and quality of services for similar outcomes depending on the referral decisions that they make. Providing a defensible specialty-specific measurement is important to capturing that value.
The transparency of information can often be as impactful as the financial redistribution of dollars. This is because physicians are generally competitive; no one believes that they are below average, so when you provide information that indicates that they are, they change their behaviors rather quickly.
What was it about your program and approach that really changed the conversation?
Most of it had to do with our conversations with clinically integrated networks and accountable care organizations (ACOs). They had never seen information that could objectively tell them that there were meaningful and measurable differences in the ways their peers performed. This was a real "light-bulb" moment for their medical directors. If you can get physicians and hospitals to look at this information as a tool as opposed to a weapon, they begin to understand that the data can be used to focus on conserving resources as opposed to maximizing revenue. Once you get over that hump, people look at things from a whole different point of view.
When your providers looked at their Network Intelligence scores, did they say, "This is me?"
Several times, they absolutely did. Many providers were in a rut and doing things that simply made sense to them, but they had no way to benchmark themselves against market-based peers. We did not get many providers who were trying to justify being low value. Their general responses were, "You're right, and I never thought about it that way." It's important to remember how embedded certain processes are in the system.
Something else to note is that we were giving providers information on a quarterly basis so they could see the results of their changes in behavior much more quickly. Many value-based programs have too long of a reporting delay to make an impact or hold a provider's attention. Our measures were timely enough for a provider to remember if it was them or not.
What results did you ultimately see from your program?
The state of Arkansas passed legislation that prevented us from implementing the model completely as designed. However, we set the stage for new and better conversations in the market. We are talking more about value-based care than ever before simply because we are pressure testing the fee-for-service model. We have seen forward-thinking, self-insured customers who are not regulated by the state move toward value-based care.
Because of the program, we have a large number of facilities asking us for a new value-based model. We must continue to fight the good fight and engage providers through open communication.
What impact have you seen from the COVID-19 pandemic?
The pandemic has shown from a different angle why the fee-for-service model is not sustainable. The pandemic prevented many services from being performed at all, which means revenue was not generated. Providers needed to make up some of that lost activity, but a portion of it wasn't going to help our members get or stay healthy anyway. I hope the revenue challenges some providers are facing will make them think about how more value-based revenue is really in their best interest.
Is the change in provider behavior sustainable after feedback is provided?
I believe if a provider is very successful under the fee-for-service model, they will be equally as effective if you change the rules. Some of the providers that have figured out how to win in fee-for-service are some of your strongest physicians—it's important to develop a model that gives them a chance to also be the strongest performers in value. Consequences drive behaviors. If the consequences are meaningful, behaviors will change—and stay that way.
Steve Spaulding, executive vice president and chief health management officer of Arkansas BlueCross BlueShield, has more than 35 years of experience working with medical coverage policies, care management initiatives, and provider-networking contracting.